We have a really beautiful fall season this year. These shots were made by my good acquaintance
Ilja Prokopjev
from
Crowded Room Studio
. Last year we made together
several photo shoots
. And it took less than15 minutes to get nice pictures.
This fall/winter season prints play a significant role. In fact my patterned khaki dress was purchased in 2006 year – rather old, yet love it so much. As it said sometimes "An old one is worth two new ones". Finishing the outfit, I took my Zara shoes which perfectly matched with the patterns on the dress.
В этом году у нас выдалась замечательная осень. Эти фотографии были сделаны моим хорошим знакомым Ильей Прокопьевым из Crowded Room Studio. В прошлом году у нас уже было пару совместных фотосессий. На этот раз нам удалось уложиться менее, чем в 15 минут, чтобы получить хорошие кадры.))
В сезоне осень/зима значительную роль играют всевозможные принты. Несмотря на это, мое платье былo приобретено аж в 2006 году. Оно безумно удобное и очень мне нравится. Как говорится, "иногда старое, лучше двух новых". Дополнив наряд туфлями в тон узорам на платье, образ был завершен.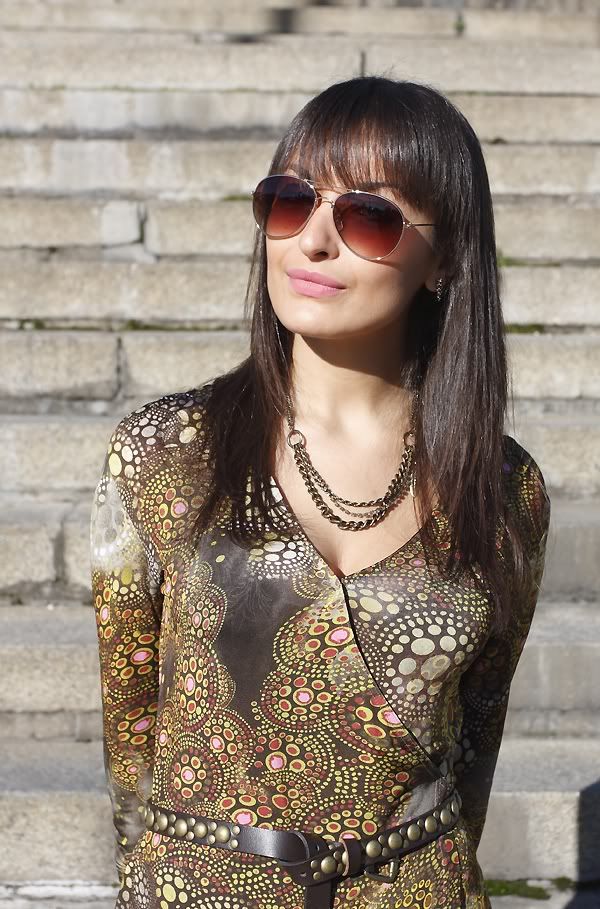 Nicowa dress, Zara shoes & belt, H&M glasses, Pilgrim necklace & earings
Collections f/w 2011-2012: Kenzo, Bottega Veneta, Chloe