Here again – post about my fall beauty tips. These posts became so regular on my blog, I just cannot break the rules. So I keep posting some notes about the cosmetics which I use more often at the appointed season.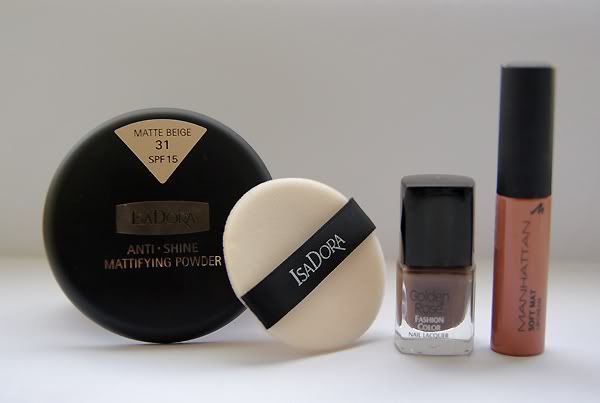 ISA DORA Anti-Shine Mattifying Powder: Matte Beige 31 SPF 15
I've been searching for this powder for so long. It is almost transperent, very soft and makes your skin matte for all day long. And the effect is so natural, that nobody can see that you use any powder. Besides, it suits for all types of skin from normal to oily. Powder consists of many active ingredients starting from calcium carbonate to vitamin E and SPF 15 which protect your skin for the whole day. In general: make your skin look natural without a hint of shine. Try it!
GOLDEN ROSE Fashion Color Nail Lacquer: 62
That was the perfect shade of beige color. It matched all my fall outfits. Fast drying and easily applicable with its high quality brush. But unfortunately I broke this small bottle in my bathroom. So there will be only one post with this nail polish. In general: nice color for any occasion.
MANHATTAN Soft Matt Lipcream: 95G
This is my third lipcream from Manhattan. Two more were in my
previous summer post.
Nothing to add – perfect lipstick. I am a big fan of this matte and creamy texture. This
lip-cream
series became my number 1 in my cosmetic bag. In general: super
long lasting and never washes away.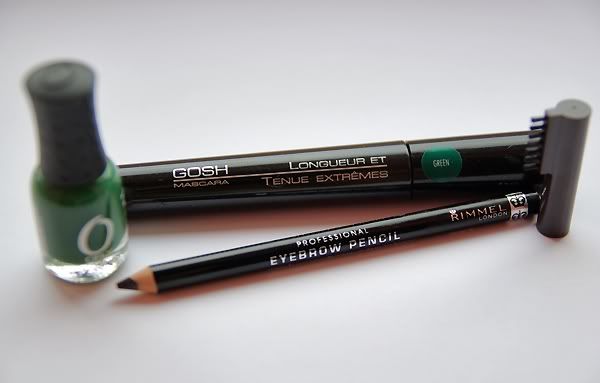 ORLY Nail Polish Mini Bottle: Wandering Vine 5.4ml
I took this small bottle from the shelf of the shop as soon as I saw it. Very durable and long lasting. It is easy to brush onto the nail with the complete coverage. This nail polish is a seasonal Limited Orly's collection. The color is a bit extroordinary, but this small bottle makes it easy to keep up to date with the latest fashions. In general: emerald is in the trend, so don't forget to try this color everywhere.
GOSH Mascara Amazing Length'n Build: Green
This soft mascara makes your lashes long is seconds. I've liked this brush, cause it separates and combs the lashes, so they don't stick to each other. This intensive color makes an accent on your eyes. By the way, the mascara contains panthenol which helps condition the lashes. In general: good mascara for experiments with different colors.
RIMMEL London Professional Eyebrow Pencil: 004 black brown
If someone has gaps in the eyebrow shape, this is the best way to fill them. Frankly speaking I use this pencil more often for my eyes to emphasize the lower eyelid. But the brush perfectly suits for refining the shape of the brows. In general: this pencil will create the desired look for your eye area.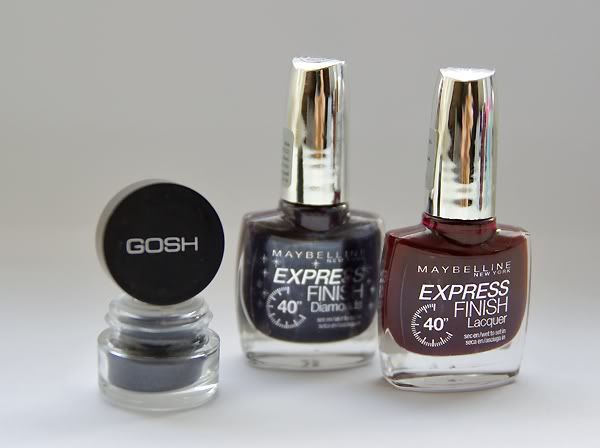 GOSH Effect Powder: Black Diamond
When I was buying that powder I thought that was for eye use only. To my surprise the slogan of this Powder collection says "Effect wherever you like". I hardly can imagine this black powder applying on my cheeks. But anyway, I should admit, that this small jar consists of incredibly silky powder. And it has several functions: either it can give a strong color effect as an eye shadow, or be faded out for a shivering effect. I try both of them, depends on the make up. But what Gosh producers say is that this powder can be also mixed with other colors to gain a perfect effect. Have to try it! In general: versatile and for all-purpose powder.
MAYBELLINE Express Finish Diamonds: 810 Black Graphite
MAYBELLINE Express Finish Lacquer: 550L Iced Cherry
These two nail polishes were offered in a tandem. So there was no choice, and I bought both of them. These vivid shades and anti chip formula exceeded my expectations. The bottle has a unique control-flow brush that applies only the required amount of nail color. Usually one applying for me is enough and I don't need any second coat. The most pleasant thing is that the nail polish dries in one minute. Burgundy color is pure and bright. As for black color it has some shimmers inside. In general: Good nail polish for everyday use. Looks nice on long nails.