May be that's a bit late, but here are my s/s beauty tips. Many people ask me about the cosmetics I use. Voilà! These are the things I mainly use during the ongoing season and my passed vacation.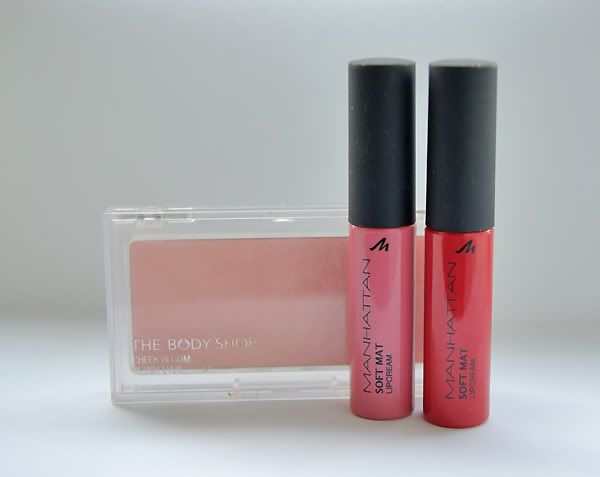 THE BODY SHOP Cheek Bloom Blush: 02 Dune Pink
This cheek blush has a very smooth and invisible texture.There was also a sparkling floral design on the first layer, but it went away very soon. The color is quite refreshing, though while applying is seen faintly. But The Body Shop limited cheek bloom range has pretty nice color shades. In general: very transparent, almost not seen.
MANHATTAN Soft Matt Lipcream: 54L, 45H
Creamy! Yummy! I've bought these two accidentally, but to my surprise, they were damn good. The color is very intensive with a matt finish. And these lip creams are soo lasting. In general: You can start kissing your boyfriend after applying the lip cream and it remains on your lips (not on mens lips) for the whole day.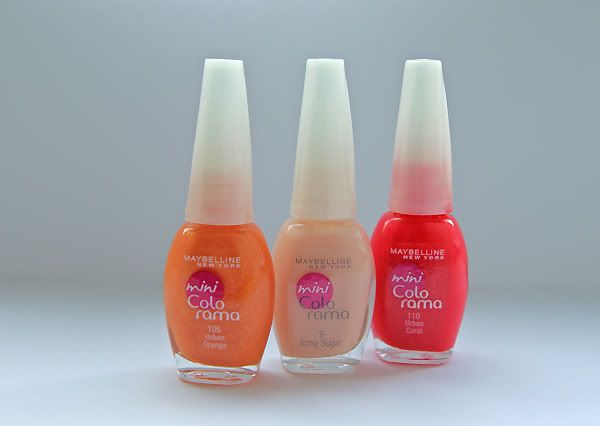 MAYBELLINE Mini Colorama:105 Urban Orange
MAYBELLINE Mini Colorama: 9 Icing Sugar
MAYBELLINE Mini Colorama: 110 Urban Coral
"Buy 2 and get a free purse!" – that was the slogan in the beauty shop, so I couldn't resist.)) Nail polish is so bright, shiny and durable – perfect for the summer season. In general: Be careful while applying. Use transparent nail polish as a base. Cause this Mini Colorama collection makes your nails look quite "unhealthy" after the removal.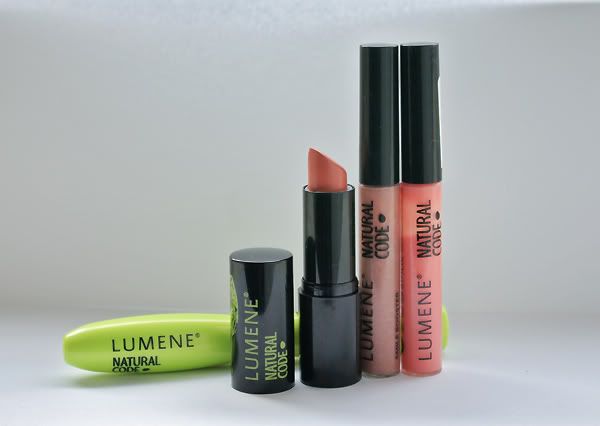 LUMENE Natural Code Eye Dramatizer Volume-Defining Mascara: Dramatic black
If I'm in a hurry this mascara helps to makeup my lashes fast. It gives volume and conditions the lashes. The brush is color-released, but still this dramatizer give depth in the whole look. I use it everyday before my work. In general: Not expensive, though gives rich black color. But if you contact with water it smudges immediately.
LUMENE Natural Code Smile Booster Lipstick: 5 Creamy Cocoa
The lipstick is perfect for the nude everyday makeup. It gives fresh glow to your lips. The best thing I adore in this lipstick is the moisturizing natural oil. In general: Very comfortable and lasting lipstick with the delicious scent. Try it!
LUMENE Natural Code Smile Booster Lip-gloss: 01 Milk Chocolate
LUMENE Natural Code Smile Booster Lip-gloss: 03 Soft Papaya
Lip-gloss applicators boost your smile and make the lips sparkle. Sometimes I have a feeling that these applicators even visually enlarge the lips. There are several shades of the lip-glosses, but mine are creamy matt. In general: Nice lipstick applicators, even better than many others. The best thing is that during the windy weather your hair doesn't not stick to your lips.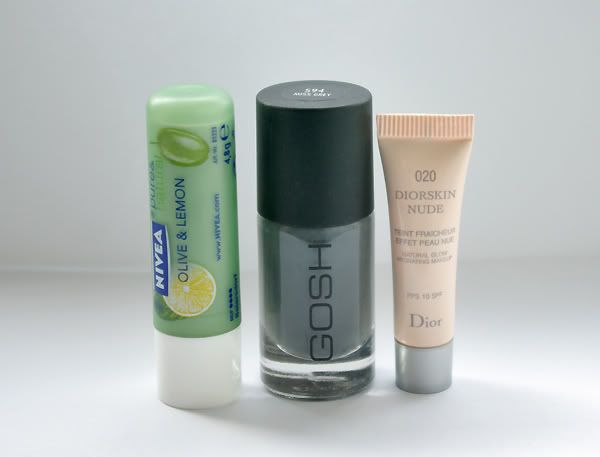 NIVEA Pure&Natural Lip Care: Olive & Lemon
I'm a big fan of lip balms. This Nivea balm was a big surprise when I've accidentally bought it in the store. It helped we during my vacation where I was dying from the heat. The balm provides long-lasting protection for dry lips. And what is very important, that is has only natural ingredients – certified bio shea butter and natural jojoba oil. In general: If You want to have soft and healthy lips – buy this balm and you won't regret. It effectively protects your lips and has a good scent.

GOSH Nailpolish: 594 Miss Grey
Very easy to apply and has an excellent coverage. As this color became very trendy I keep applying it from time to time. In general: Two coats give opaque color, but sometimes it looks more black rather than grey. But still, the nail polish is very long-lasting.
DIOR Diorskin Nude Natural Glow Hydrating Makeup: SPF 10
A bit light for my skintone during the summer, but still I keep applying it in the eye zone. It has a natural hydrating liquid foundation and 100% natural mineral pigments. So the skin glows, and as they say – improves over the time. Frankly saying, I don't believe in that. But sometimes this small package is very comfortable during the trips or even to carry it everyday in the makeup bag. In general: Very smooth formula gives a new touch to your skin. But during the summer period I won't recommend to apply it for the whole face. Only for the eyezone.