So here are my winter beauty tips. These posts related to cosmetics became so regular that I decided to publish them every season. I should admit that there isn't any big difference between my usual
summer
,
autumn
or winter cosmetics bag. The only thing may be – the long-lasting function of some special products. This is because here in Estonia we have a very bad and unpredictable weather – in the morning there can be fog, sunny during the lunch time and in the evening – heavy snow. Of course, sometimes my make-up shows my imperfection. But this is the way I like.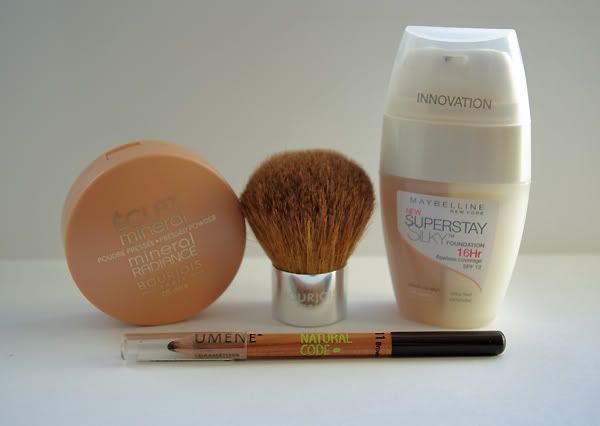 BOURJOIS Paris Pressed powder, Mineral Radiance: 05 doré
BOURJOIS Paris pinceau
LUMENE Natural Code eye dramatizer: 11 Brown
MAYBELLINE
Superstay Silky Foundation
Thanks to the unique hot pressed technology, this powder is enriched with radiance-boosting mineral quartz. So when I apply it on my skin, it gives a natural glow, meanwhile natural matte shade. Some formulas let the face skin breath and contains anti-oxidant vitamin E. And it smells perfectly…mmm!
The powder brush is very smooth, it eases the application and perfectly fits in the cosmetics bag.
This foundation is a Maybelline innovation. It consist of 2 formulas: colour coverage & silky feel extender. My shade is nude. And it also remains up-to 16 h – absolutely true. You will never wash it out with a water – very long lasting! But I use it only when I have some kind of important evening event, not for a daily use.
The brown pencil is my favorite product ever. I call it magic wand. This eye pencil is always in my bag anywhere I go. And it has the right name – dramatizer! ))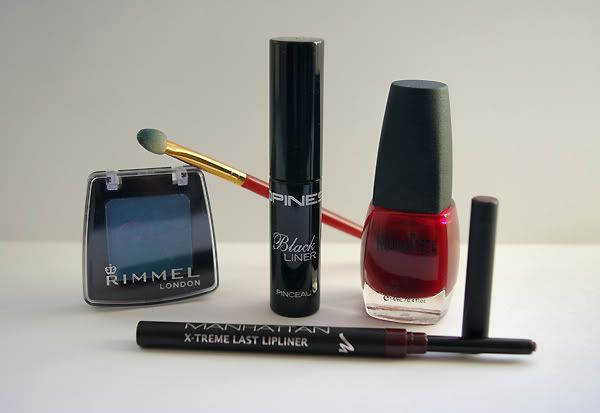 RIMMEL London Colour Rush Mono Special Effect: 020 tempted
COPINES line Paris Black Liner
WILD and CRAZY Vernis a ongles: w46 Pierre
MANHATTAN
X-treme last lipliner: Col. 69T
The Rimmel powder shadow supposed to have a special effect with the new improved texture that adds longevity and softness. But my colour is "Alluring" blue-violet and this is not for the everyday use.
Black eyeliner also is good mostly for the evening looks. But sometimes I like to experiment and try it on during the day time – goes just great with the nude make up.
The burgundy shade of the nail polish looks good either on finger nails, or as a pedicure. But never together – this would be too much for me.
As for the lips, I actually tried to find the same colour as a nail polish, or may be even darker. But there was nothing in the stores. So I bought this dark lip liner and just covered all my lips with it. The strange thing was that the colour effect turned absolutely different – the lips were plum coloured.)) The lipliner itself is extremely long-lasting and super soft when applying.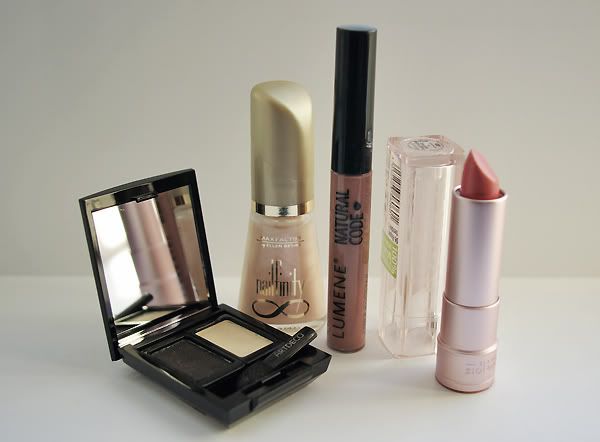 ARTDECO eyeshadows: 311, 44
MAXFACTOR by Ellen Betrix Nailfinity: 865 Modernistic Pink
LUMENE Natural Code Smile Booster: 1 Milk Chocolate
BOURJOIS Sweet Kiss Naturel: 06 Rose tendre
When I bought this beauty box set refills from ARTDECO, I've already known what colours I would insert there. This shimmer black eyeshadow is just perfect for the evening make up as well as for the smoky eye. The eye shadows are soft pressed and add an amazing colour brilliance.
Very versatile nail polish. It applies easily and is very long lasting. They say that it is "chip resistant, shock resistant, wear resistant".
Natural Code Bohemian Pastels Trend Collection…. what a long name for a lip gloss! As You all know, I like everything natural, much more than artificial. So to emphasize the natural beauty, just get one lip gloss in pastel shades, and you'll stand out from the crowd.
I knew before that the Bourjois lipsticks are very long lasting. But I thought it is because of some chemicals inside. But this one is with 100% Natural Formula which brings radiance and care to lips. So there are a lot of ingredients and vitamins, and it looks good and natural on lips, even that firstly I thought it was drying them.