>
Could you ever believe that military styled clothes can be sexy or look even feminine. Now I can definitely say yesss. As You've all already noticed, I use khaki toned garments very often. I really fell in love with this military trend. This time my outfit was a mix of several trends: military, leather and socks over the knee.The red lipstick was the last touch of the whole look to feel my self more woman, not a soldier like)))
From season to season on catwalks we see the models in coats, jackets, tight shirts with the copper buttons, etc. But don't think that this trend deprives a girl of any hint of femininity. To avoid becoming a soldier Jane, combine military with more feminine materials and accessories. What concerns leather, I would admit that the time when it was associated only with bikers and rockers has gone. Now, the leather is the most relevant material , besides it is a traditional for autumn and winter. Here it can also be combined with something else updating the trend or left for the leather total look.
Вы когда-нибудь могли подумать, что стиль милитари может выглядеть очень женственно и привлекательно? Сейчас, я однозначно могу это утверждать. Как уже все ранее заметили, я очень люблю одежду в хаки тонах. И я действительно безума от этого стиля. Но в этот раз, у меня получилось некое смешение осенних трендов: милитари, кожа и чулки выше колена. Последний штрих всего наряда – красная помада. Всё же хочется себя чувствовать больше женщиной, а не солдатом. ))
Из сезона в сезон мы видим на подиумах моделей в шинелях, мундирах, плотных рубашках c медными пуговицами и т.п. Однако не стоит думать, что такая тенденция лишает девушку любого намека на женственность. Чтобы не превратится в солдата Джейн, одежду в военном стиле нужно просто сочетать с более женственными материалами и дополнять аксессуарами.
Что по поводу кожи, то давно прошли те времена, когда кожаная одежда ассоциировалась исключительно с байкерами и рокерами. Сейчас кожа – самый модный и актуальный материал, к тому же это традиционный материал осени и зимы. Тут тоже можно комбинировать или же оставлять кожаный total look.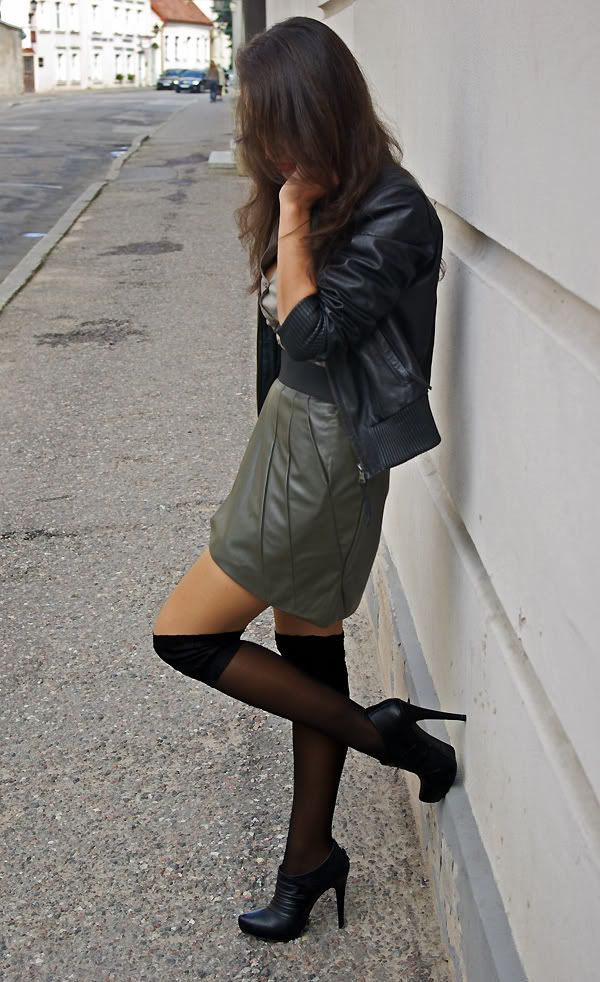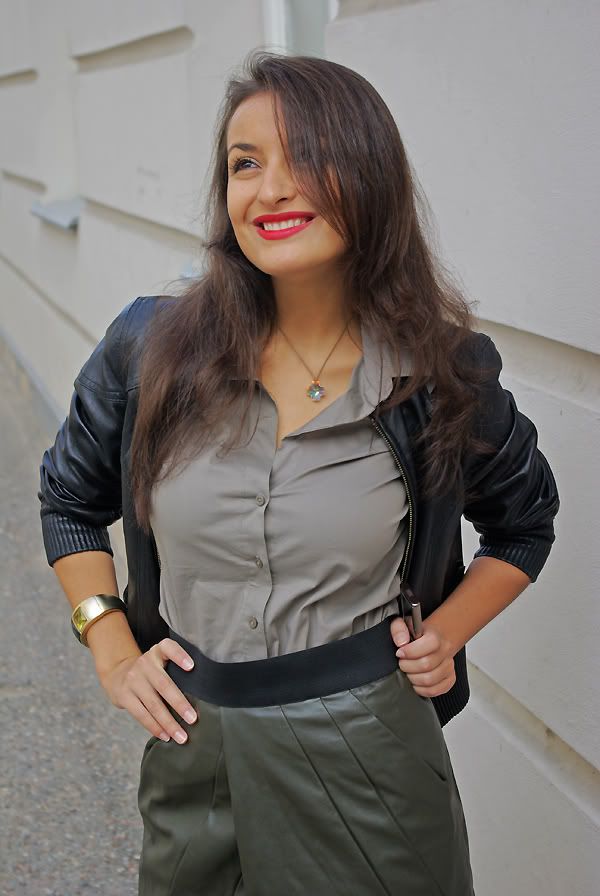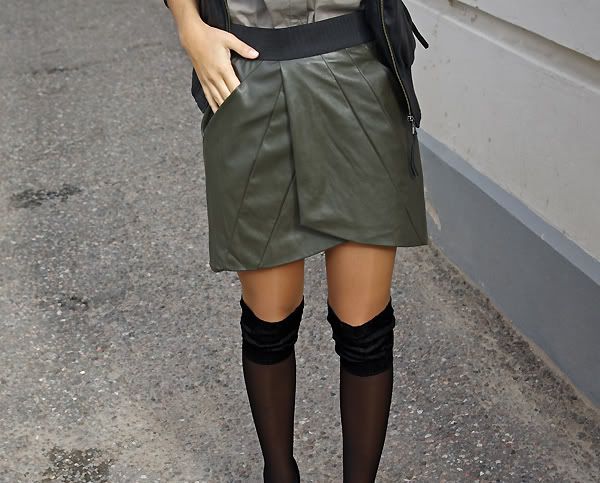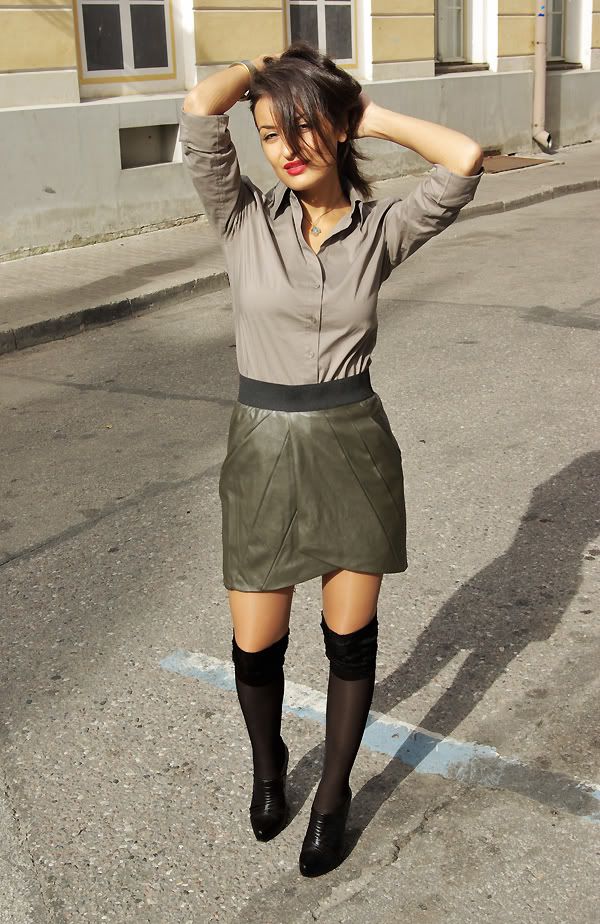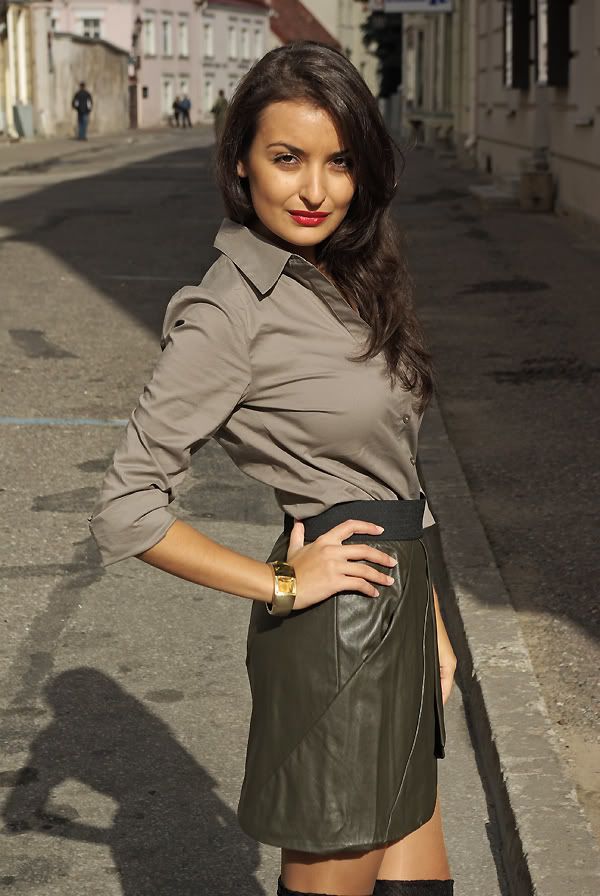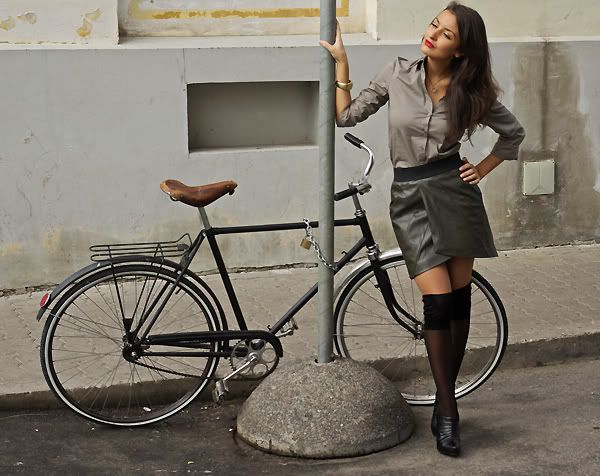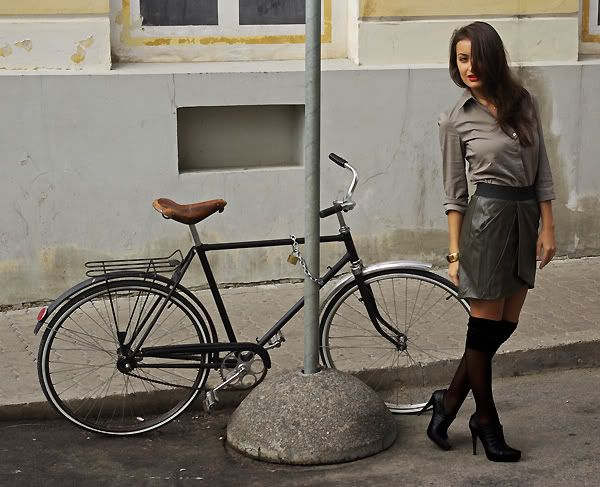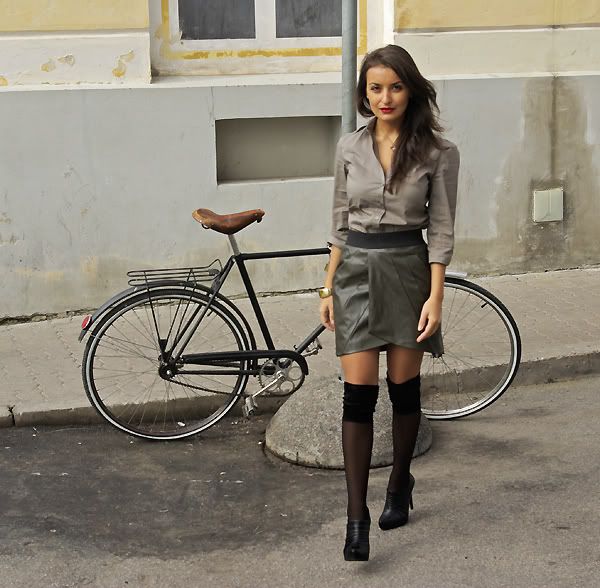 Amisu leather skirt, Mexx khaki shirt, Aldo black ankle booties, Morgan black leather jacket, Bourjois red lipstick
Trends: Military + Leather (Collections f/w 2010-2011)
Celine, Aquascutum, Diane von Furstenberg
Dsquared2, Costume National, DKNY
pictures taken from vogue.ru