One of my anonymous follower asked me to share my beauty tips for summer. I will show you with a great pleasure. So I divided my cosmetics into 2 parts – for the daytime, and of course my evening make up ))) Actually, I prefer to stay natural as much as it is possible. Every season I have my top must-haves and it concerns not only fashion, but cosmetics as well.
Один из моих анонимных читателей задал мне вопрос по поводу косметики, которой я пользуюсь летом. С удовольствием могу поделиться своими секретами. У меня идёт четкое разделение косметики на дневную и вечернюю. Хотя я максимально пытаюсь оставаться естественной без яркого "мэйк апа". И в каждом сезоне у меня есть список "необходимых" вещей – это касается как моды, так и косметики.
This is my daytime cosmetics. Very bright, colourful and not very annoying.
Косметика на дневное время суток. Очень яркая, насыщенная и совсем не раздрожающая глаз ))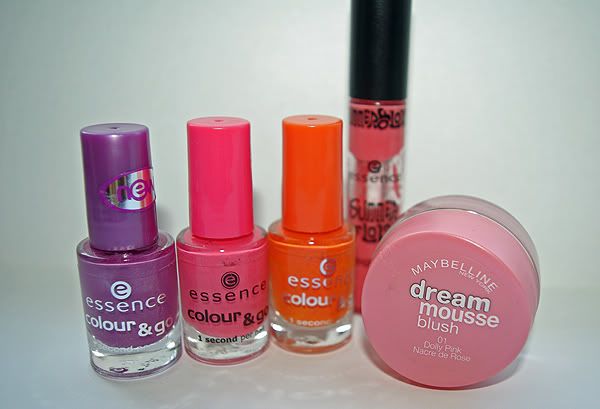 ESSENCE Colour&Go nail polish: 20 Go Wild, 09 Get the Fever, 19 VIP Appeal
ESSENCE Summer of Love lip gloss: cosnova
MAYBELLINE NY Dream Mousse blush: 01 Dolly Pink
This bright collection of nail polishes are perfect for any skin tone. On short nails it looks very sporty and on longer nails super-glam.
For the natural rosiness I use the soft pink blush just under the cheekbones.
A touch of shimmer leaves lips plump and juicy, and never sticky.
Лето – это то время, когда надо быть яркими и комбинировать самые смелые сочетания. Эта яркая коллекция лаков для ногтей подойдёт к любому цвету кожи. На коротких ногтях лак будет выглядеть очень спортивно и модно, а на длинных – гламурно.
Для естественного розового оттенка на щеках я использую очень мягкий мусс. Наношу его только на скулы для лёгкого еффекта.
Немного блеска на губах сделают их более сочными.))
This is the cosmetics I use during the evening parties or promenades.
Эта косметика, которой я предпочитаю пользоваться вечером.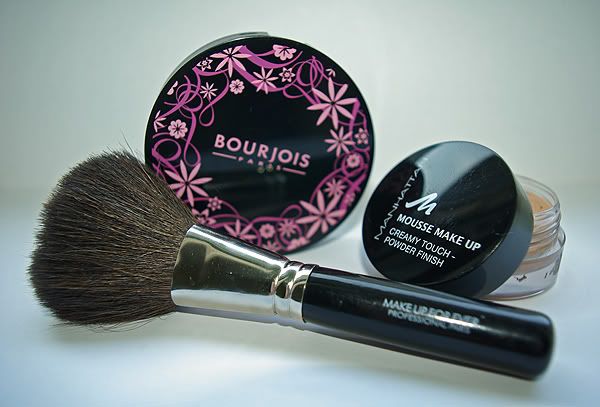 BOURJOIS Paris Mattifying compact powder: 74 Abricoté
MANHATTAN Mousse Make up. Creamy touch – Powder Finish: 74 Sun Beige
MAKE UP FOR EVER Professional face brush
The matt powder gives a very soft effect and seems to become a part of skin.
This mousse is masking all of my imperfections without feeling like it's caked on. No matter how much I layer on my problem areas, it will still look sheer.
Very soft and versitale natural face brush. Medium-size brush usually conceals every imperfection.
Матовая компактная пудра очень мягко лочится на кожу и практически сливается с ней.
Тональный крем-мусс даёт ровный матовый оттенок кожи. Он не ощущается на коже и не забивает поры, а также идеально скрывает все неровности и мелкие недостатки.
Очень мягкая и практичная кисточка для лица сделана из натуральных материалов. А средний её размер позволяет распространяться косметике гладко и равномерно.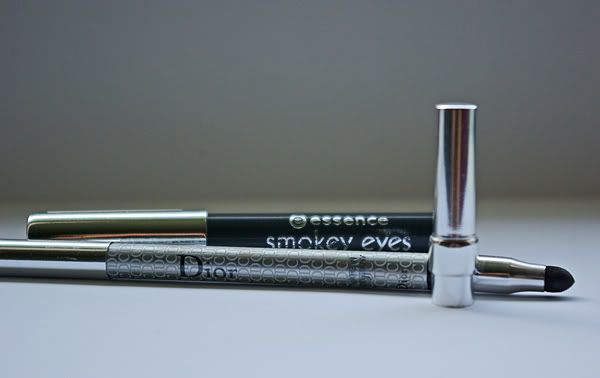 ESSENCE Smokey Eyes Pencil: 02 Show Time
Christian Dior Paris Eyeliner Pencil: 090 Black
These pencils are perfect for doing smoky eye. I can either smudge it like a shadow, or get a bold line along the lashes with it.
Эти карандаши идеально подходять для эффекта "дымчатых глаз". При нанесении можно либо растушевать их как тени, либо сделать ровную подводку вдоль контура глаз.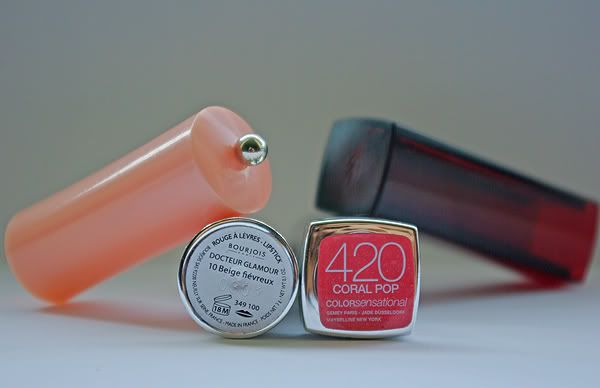 BOURJOIS Paris Docteur Glamour Lipstick: 10 Beige fiévreux
MAYBELLINE NY Color Sensational: 420 Coral Pop
Shiny colour that won't bleed or flake. It's very durable even for the beach weather.
As for the Coral lipstick, it doesn't turn dry and chalky, like many long-lasting formulas. It saturates lips with water melon-infused shine.
Сияющий эффект помады с телесным оттенком не сушит губы, а наоборот, имеет лечебные свойства. Очень хорошо подходит для пляжа.
Коралловая помада обеспечивает насыщенный тон, придавая губам выразительный и устойчивый оттенок. Невозможно остатся незамеченной с таким цветом губ. ))