>
While it's still being cold outside I'm trying to find a moment between the rain and wet snow just to make a few pictures of my outfit. The weather is soo nasty, brrr! There is nothing better than to sit at home with a cup of warming tea. But then I would have no possibility to post new looks to my blog. That's why I have to dress up some warm clothes and go for a walk. Girls, I advice all of You (unless you have a lush hips) to try a very functional trend of this season – over-knee stockings. For me this accessory is incredibly convenient – it is warm, comfortable, and the most important thing, it is difficult to remain unnoticed by others.)) The basic rule is the length of the skirt/shorts/dress with what you are pairing the stockings.
The rule is about to choose very short garments, to let a little strap of the thighs appearing. By the way, they say that it pulls the silhouette. I don't know
whether
this is true, one thing I
undoubtedly can say –
it adds style and a subtle sensuality.
PS. That day I've accepted the flowers from 2 passer-bys.)))
Пока на улице все ещё холодает, я пытаюсь найти момент запечатлить свой образ в перерыве между дождем и мокрым снегом.))) Хотя признаюсь честно, погода очень противная. В такие дни нет ничего приятнее утеплиться как можно лучше и сидеть дома за чашкой чая. Но т.к. домашняя обстановка мне не даёт возможности делать очередной пост на блог, приходиться утепляться для прогулок. И тут я всем девушкам (желательно не с пышными бедрами) советую попробовать на себя очень функциональный тренд сезона – чулки выше колена. Для меня такой вариант утепляющего аксессуара невероятно удобен – в нем тепло, комфортно, а главное, сложно остаться незамеченной.)) Основным правилом, пожалуй будет длина юбки/шорт/платья, в сочетании с которыми надеваются чулки или голфы. Длина
должна быть такой, чтобы между ней и гольфами оставался промежуток. Кстати, говорят, что это вытягивает силуэт. Пока я на себе этого не ощутила, но могу с уверенностью сказать – чулки выше колена придают образу какую то "прозрачную" чувcтвенность и стильность, безусловно. Не зря мне в тот день аж 2 раза дарили цветы случайные прохожие.)))))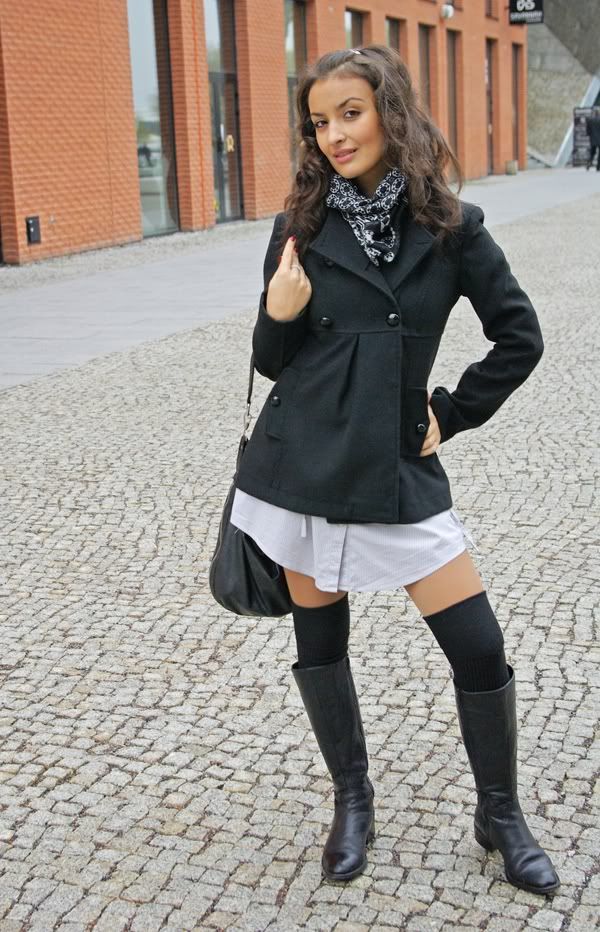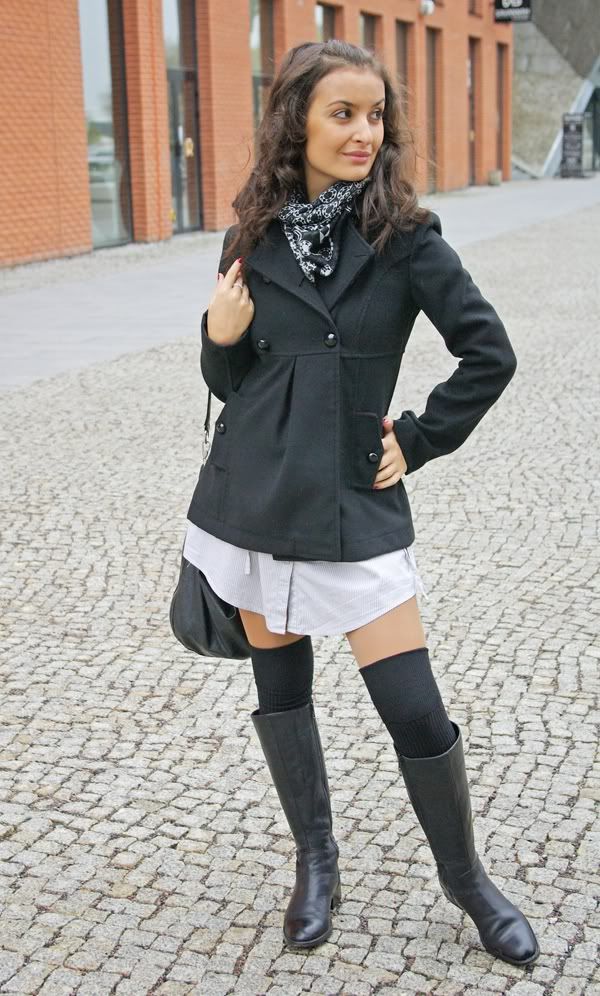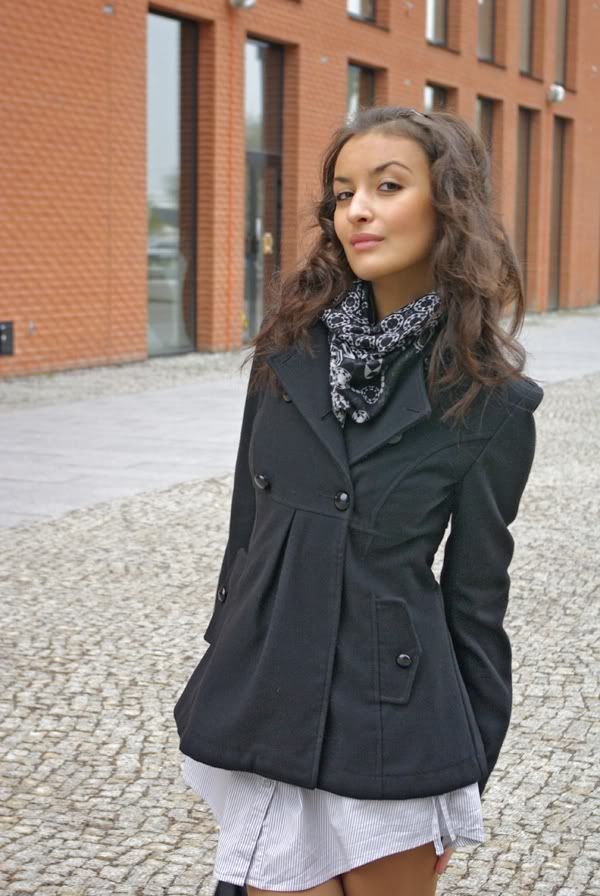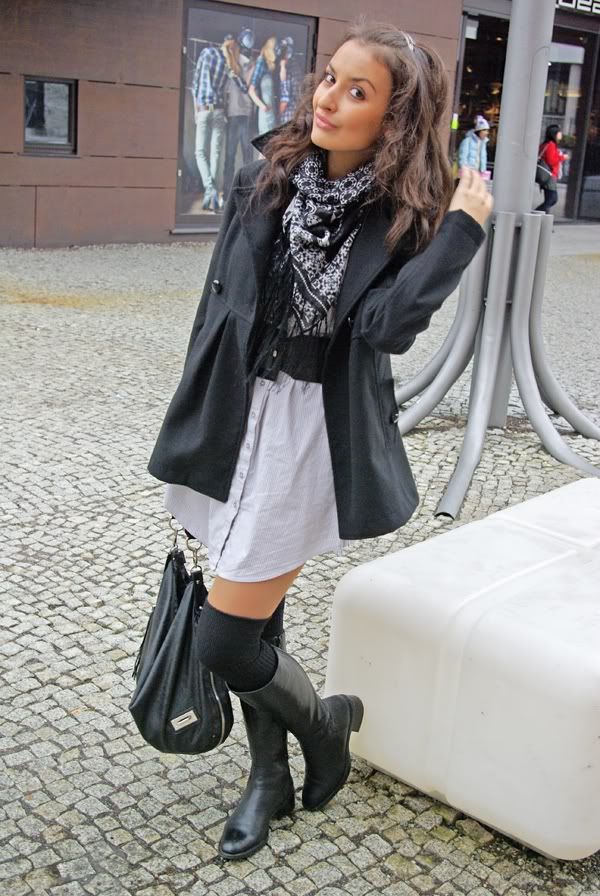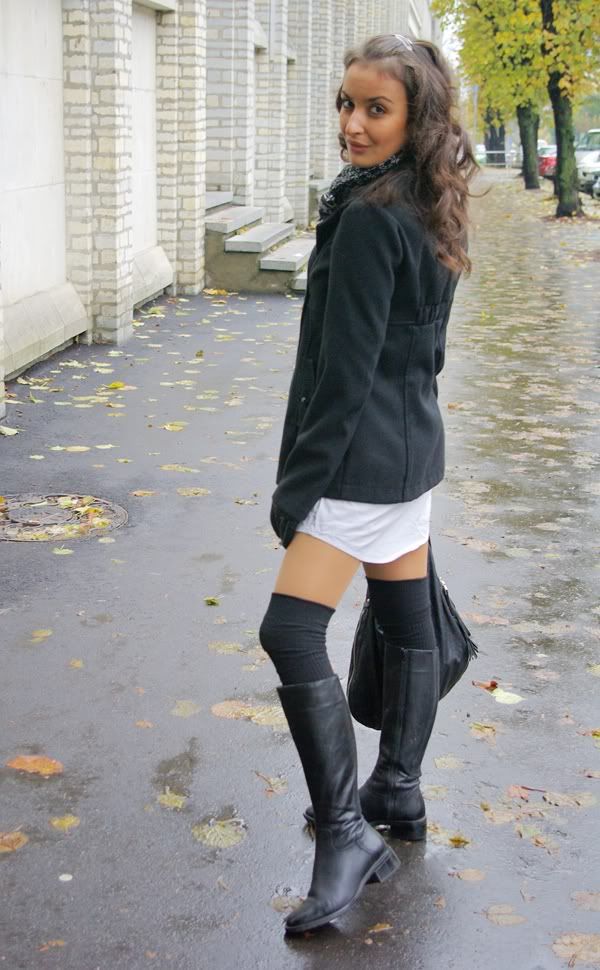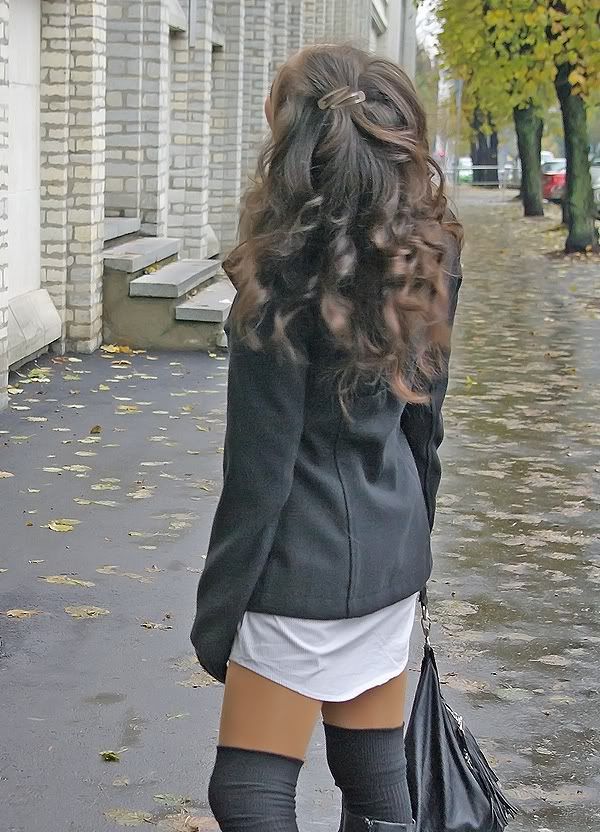 Nuna Lie coat, H&M dress, Lindex over-knee stockings, Varese boots, H&M scarf
Fall/Winter 2010-2011 Collections :
Lemi Feu, Vanessa Bruno, Brian Reyes